Biography
---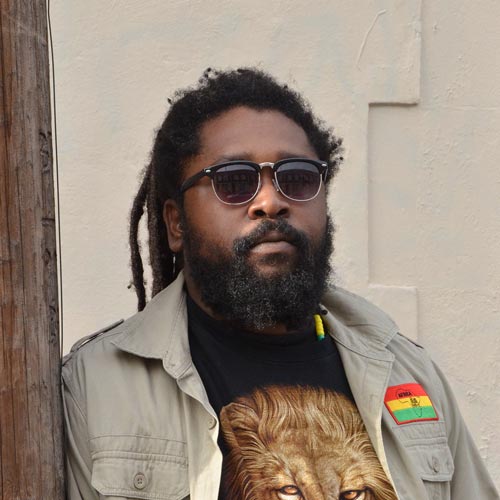 Jah Garvey was born Roger Brady on the 26th of January 1979 in the Parish of St. Catherine, Jamaica. His parents, Monica Angel and Gauntlett Brady are both originally from the Parish of St Ann, Jamaica.
At the early age of four, Jah Garvey, whilst living with his grandmother and still at infant school, visited a local bar where Bob Marley's "Buffalo Solider" started playing from the juke box and from then on, Jah Garvey was hooked. He started listening to music by Gregory Isaacs, Yellow Man and John Holt, which captivated his mind musically and made him aware of the world of music. He then expanded his range by listening to "American music" as he puts it; R&B, Soul and Country and also found a love for Gospel music. At the age of almost six years of age, his grandmother became very ill and was not able to take care of him anymore, so Jah Garvey returned to live with his mother and other brothers and sister. His mother registered him at the local primary school McAuley Primary and he later graduated and went onto further studies at Spanish Town Secondary, where he was awarded an Athletic Scholarship and finished his school years at St. Jago High.
At the age of eleven, Jah Garvey, who took the name of the National Hero after playing the role in a school play, performed at Connie Park, where many talent shows were kept. One particular show was The Gong Show. Jah Garvey took part in this talent show and was gonged off stage. Disappointed, Jah Garvey did not give up, the experience made him more determined, so he continued doing many talent shows within his local community. In Central Village where he grew up there were always a lot of activities and events, around music. This allowed Jah Garvey to continue develop his skills as an artist and also working with many sound systems in his community including a popular sound system owned by his cousin, Seduction Sound. Jah Garvey also worked with Earthquake, Fada Centrik, Eagle Love, Lamel Sound and Black Ruler.
In 1998 Jah Garvey experienced his first time in a recording studio. At Kingston Muzik, he recorded his first song entitled "More Garvey", he went from studio to studio in Kingston and did auditions for major recording studios such as King Jammys, Arrows and Youthman Promotions. Jah Garvey, classed as a very good artist, was allowed to hang out with Sugar Minott, Determine, Powerman, Bunny General, Jimmy London, Barry Brown, Thrillout, Vicious Irie, Bingy Moses, Gregory Peck, and Travel Fox to name a few. Being in the midst of these famous artists Jah Garvey was given valuable advice and guidance which gave him his versatile skills and even more determination to make music his main career.
Through the Bob Marley Foundation UK, and his producer and promoter Bunny Lie Lie, Jah Garvey was given the opportunity to tour the UK. In 2001 Jah Garvey moved to the UK and continued to develop his musical career around everyday life, performing at stage shows, festivals, carnivals and many venues around the country.
In 2006, Jah Garvey created his own record label, Dada Ras Production Ltd, which saw him releasing his first track in the UK, titled "Where is the Love", written when he attended St. Jago High, in Jamaica. At the time this was penned it caught the attention of Eugene Pitter, a local newspaper journalist who wrote for the Jamaica Gleaner and reviewed this song.
Since his arrival in Bristol, Jah Garvey has been working as a bus driver and throughout this time has been exposed to the plight of the people he encounters on his daily journeys. Jah Garvey found that it is vital to support these people by representing their lives through his music, thus encouraging happiness, enlightenment, personal growth and development. Jah Garvey is also presently working with a series of producers in Bristol, growing and promoting his much appreciated real life melodies, He recently completed his debut album "One Love". This has propelled Jah Garvey into the limelight with appearances on stage shows with artistes as Tanya Stephens, Black Uhuru, St. Pauls Carnival, Bristol Live, Brixton Splash and many others.
His career continues to flourish and he recently built his own Recording Studio -Dada Ras Production Ltd and Talent Company along with other musicians, securing a platform where he and the rest of the unsigned world would create – Music's Alternative Industry. A winning combination of Musicians, Engineers, PR and Producers who grew up within the music industry and who fully understands what is needed to support Jah Garvey in his journey to further his career as a Global Cultural Reggae Artist, contributing positive works and enlightenment to the hearts and minds of his listeners.
Booking
---
Agency Yam & Banana